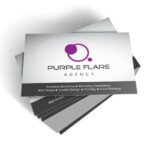 "Did you know that business card design can impact the success of your business?" A business card is your brand ambassador so it makes sense to consider custom business card design vs. business card templates, business card print quality, size (dimensions), and so on.
A business card is more than a piece of paper that displays your name and contact number. It can also be a powerful marketing tool that helps potential clients, customers or partners remember you and your company better.
The right business card not only works to promote your business, but should also act as a business tool, offering a convenient place to jot down notes and reminders.
This article will discuss some important business card design issues, and look at the most affordable way to get business cards, designed, printed and delivered as quickly and easily as possible.
Business card design
Up until recently, one business card looked more or less like any other business card – to my eyes. However, I attended an excellent talk on networking and picked up some great business card design points:
Image: A business card must contain an image of you (in the case of a home business or sole proprietorship), or your brand (for small, medium and large business)
Clear & simple: Business card design is like Web design – people perceive it as "better" if they can find what they want quicker
Empty space: There must be empty space to jot down notes somewhere on the card – front or back, it doesn't matter
An image serves to associate your face with your name, or your face with your company or brand. A business card can help someone remember you if it provides visual re-enforcement.
Business card details
Don't clutter a business card with too much content. The client, customer, or acquaintance needs to know your:
name
company/brand
position/title
contact details
website
Anything other information a particular person needs can be jotted down in the space provided on the card – which is why leaving a clear space is an important part of business card design.
Custom business card features
There are plenty of fancy services offering super-duper business card features. However, a standard business card that is not laminated with a plain background (preferably white, or some other light color) is preferable.
Don't choose dark colors or laminate the business card if it is going to prevent you from writing notes on it.
Leaving a clear space for writing allows you to add a note that acts as a reminder of your meeting – it's a great networking trick.
Jotting down a reminder (before handing over your business card) saying, for example,"Call Dave, RE: SEO audit" will remind that person of their discussion with you – in the event that it has slipped their mind by the time they see your business card again.
Size also matters:
Don't choose non-standard business card sizes if it will prevent the business card from conveniently fitting into a wallet.
Read more at http://www.business2community.com/branding/how-to-design-and-print-the-perfect-business-cards-0292347#PwOGxY0r8wG50MYz.99