Upkeep of your vehicle is a must, and giving attention to both the technical state and physical appearance helps car owners get the most out of these most significant investments. Using an expert auto detailing service to regularly clean your vehicle and maintain details like paint help make your car look and feel its best.
All That Advanced Auto Detailing Has to Offer
The advanced auto detailing offered by Purple Flare comes in various packages tailored to multiple automotive needs. The highly customizable services are available in Silver, Gold, and Platinum options and include combinations of a variety following services: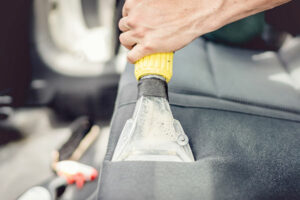 Paint Protection (suitable for a year)
Nano-Ceramic Coating
Paint Correction (varying levels of polish)
Clay Painted Surface (Decontamination)
Mirror and Window Cleaning
Vacuuming of Carpets, Mats, Upholstery & Trunk
Cleaning of Vents, Door Panels, Dashboard, & Headliner
Interior and Exterior Dressing (plastics and trims)
Interior Shampooing
Cleaning and Conditioning of Leather and Vinyl
Hand Washing and Towel Drying
Protect and Enhance Your Vehicular Investment
Decluttering and sprucing up both the interior and exterior of your vehicle's personal space can help destress, boost your energy, and declutter the mind. For those who put importance on possessing status symbols, being the owner of a beautifully maintained vehicle can promote success and reach a goal. Additionally, driving a clean and well-maintained car is conducive to personal comfort and contributes to the preservation of the condition and market resale value of your automotive investment. Consistent maintenance like polishing, light cleaning, protecting plastic trim, and repairing minor scratches all provide immediate satisfaction and ensure a more smooth and rewarding resale process down the road, should you choose to go that route.
Check out Purple Flare Wraps today to get a quote and schedule an exceptional auto detailing, including paint protection film.