Custom vehicle wraps are seen everywhere nowadays. They are used by many companies as an effective marketing technique to get their company name out there in front of their target audience. 
Wrapping your company vehicle or company fleet with a personalized wrap that shows your unique branding and logo can increase your brand awareness and boost visibility. In turn, this can generate more leads and sales. These wraps also create a sense of safety and professionalism. When you show up to a job, the client will know who you work for and it's safe to let you in.
It's not just businesses that can benefit from custom vehicle wraps. Anybody can have them! At Purple Flare, our wraps can completely transform your vehicle to give you the best results.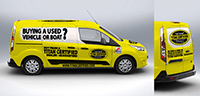 Choosing A Style
There are three styles of custom vehicle wraps. 
Full wraps cover the whole of your vehicle from top to bottom. 

Partial wraps cover only part of the vehicle, with its original color and paint still showing for the most part. 

Decal wraps have images printed on them to apply and often use a vinyl base. 
Which one you choose depends on your preferences and the vehicle you own. If you have a large truck, a beautiful open canvas will look great across it. It would be a shame to waste all of the space! You can also start with a decal, and expand as your business grows.
The Ideal Fit
If you have a small company car, you might want to go for a creative decal to show your company logo. You can always add on from here and expand into partial or full custom vehicle wraps. 
Custom wraps can bring a whole new lease of life to your vehicle's plain exterior. They can get your brand in front of your target audience to boost visibility and sales. What else are people going to look at while sitting in traffic?
 Contact Purple Flare Agency to get your custom vehicle wraps today.