Why Choose Car Wraps Vegas Style? 
Your car is a reflection of who you are. You can be bold and stand out with your personal, customized car wraps Vegas style. Or choose flashy designs to promote your business wherever you go. Offering unique sin city car wraps, you can find the right customizable wraps to suit your style. The best part is you can easily change your car wraps whenever you're bored or feel like something new. You'll always be driving with a fresh-looking ride.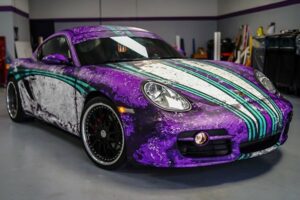 What Are Car Wraps Vegas Style?
When customizing your Vegas car wraps, make yourself seen. Go big, bright, bold so that you can stand out among the lights of Las Vegas. So, when creating your own personal Vegas-style car wrap, work with the team at Purple Flare to design larger-than-life car wraps. Working with experts will help you create a crisp, sleek, and confident design, so you'll be proud to show off your ride where ever you go.  Take risks, bet it all on your business and reap the rewards with custom car wraps.
Qualities of Car Wraps Vegas Style
When it comes to your custom car wraps, using the best of the best materials is essential. Choose quality materials and unique artist designs, so your car wraps are effective for marketing your business or showing off your wheels. Go for colors that are vibrant and work well together, so everything is visible to passersby. That way, your design will be clear with flawless application. You'll have the most impressive car wraps in Las Vegas.
In Las Vegas, you should go big so that you can stand out. Choose a team of esteemed artists and car wrap specialists for effective business promotions and personal branding. By working with Purple Flare, you'll receive the best high-quality car wraps Vegas style.
Get a quote for our custom car wrap services.