Maintaining a strong, recognizable brand is important for any business. In order to build brand awareness, it's important that potential customers are exposed to your branding as often as possible. Although typical marketing solutions like billboards and transit ads can accomplish this, most people see hundreds of these types of advertisements every day. In order to create a lasting impression in the minds of potential customers, businesses need to think outside the box. A business fleet wrap is a unique way to get your business noticed and establish your brand.
Fleet Designs
When it comes to designing your business fleet wrap, simplicity is key. Many people will only look at a vehicle wrap for a few seconds, so you'll want to make sure that they're able to get a clear idea of what your business offers very quickly. This means that complex or intricate designs are best avoided. Instead, stick to a few of your major brand colors and short, clear text. The best material to use for a business fleet wrap is 3M vinyl because it's durable, dependable, and easy to work with.
Benefits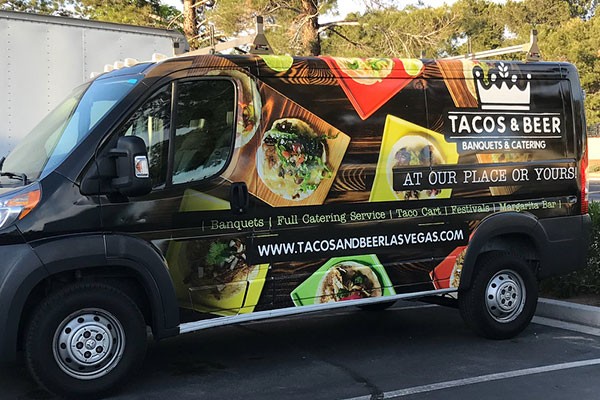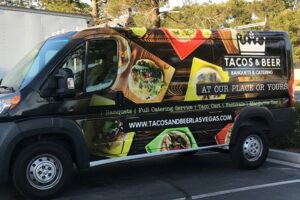 One of the biggest benefits of a business fleet wrap is that it gets lots of impressions. In fact, the Traffic Audit Bureau estimates that vehicle advertisements can be seen by 30,000 — 70,000 people each day! However, it doesn't matter how many people see an ad if they don't remember it. A vehicle advertisement is more likely to be remembered because it's a unique, creative way to boost your branding. This is especially true for individuals who see the vehicle multiple times or look at it for a prolonged period of time. Finally, there's an upside to being stuck in traffic!
If you're interested in wrapping your business fleet, contact Purple Flare Printing today for a quote. We're Las Vegas' #1 choice for vehicle wraps and restyling.